EXCLUSIVE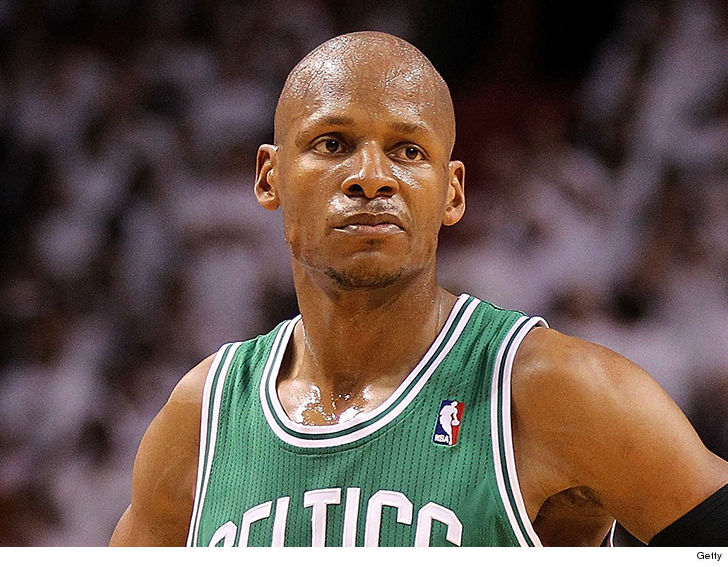 TMZ Sports has obtained court documents filed by the man who claims he's being stalked by Ray Allen — and he believes the NBA star is out to kill him.
But Ray says the accuser is just a "deranged individual" who's obsessed with him — and the allegations are as bogus as it gets. 
Bryant K. Coleman filed the petition for a temporary restraining order against Allen on Nov. 6 — a petition that was granted by a Florida judge. 
In the docs, Coleman claims Allen called him on the phone on Sept. 9 — after their alleged 3-year relationship had ended — and said he wanted to "ensure that I went away and never opened my mouth again."
"He said he wanted me to get what I deserved."
Coleman says Allen has "repeatedly spied on me by sending his associates to follow me in my community." One incident allegedly took place in a Publix market on Oct. 10 where Coleman says a man approached him and told him to "watch your back."
Coleman also claims he received a phone call from someone threatening to strangle him — and he believes the caller was Ray Allen.
In the docs, Coleman says Allen was recently seen in public with 2 armed men and believes the ex-NBA star may be planning a "more direct attack."
One interesting note — in Coleman's petition, he lists Allen's aliases … and wrote, "Jesus Shuttlesworth" — the name of Allen's character in the movie "He Got Game."
We spoke with Allen's attorney, David Markus, who tells TMZ Sports, "As with everything else related to Briant or Bryant Coleman, his petition for a restraining order was filled with lies, falsehoods and fantasies."
"He is a seriously deranged individual who Ray Allen has never met, never spoken with directly or threatened in any way. Coleman is the stalker here who is obsessed with Ray."
"Ray wants nothing to do with him and is exploring all legal options to stop him from continuing to harass and threaten him, his family and friends"