Watch Jennifer Lawrence Address Versace Dress Criticism and Dish on Amy Schumer's Wedding
Jennifer Lawrence has had quite a few weeks.
Between being a bridesmaid in her best friend Amy Schumer's surprise wedding on Feb. 13, to hitting back at critics on social media, the star has been busy.
On Feb. 20, Lawrence posed with her male co-stars at the Red Sparrow photocall in London while wearing a black, plunging Versace pre-fall 2018 gown. Hours after the photos emerged, people began slamming the star for wearing the dress without a jacket, to which Lawrence responded to on Facebook.
"Wow," she wrote. "I don't really know where to get started on this 'Jennifer Lawrence wearing a revealing dress in the cold' controversy. This is not only utterly ridiculous, I am extremely offended. That Versace dress was fabulous, you think I'm going to cover that gorgeous dress up with a coat and a scarf? I was outside for 5 minutes. I would have stood in the snow for that dress because I love fashion and that was my choice."
She continued, "This is sexist, this is ridiculous, this is not feminism. Over-reacting about everything someone says or does, creating controversy over silly innocuous things such as what I choose to wear or not wear, is not moving us forward. It's creating silly distractions from real issues. Get a grip people. Everything you see me wear is my choice. And if I want to be cold THAT'S MY CHOICE TOO!"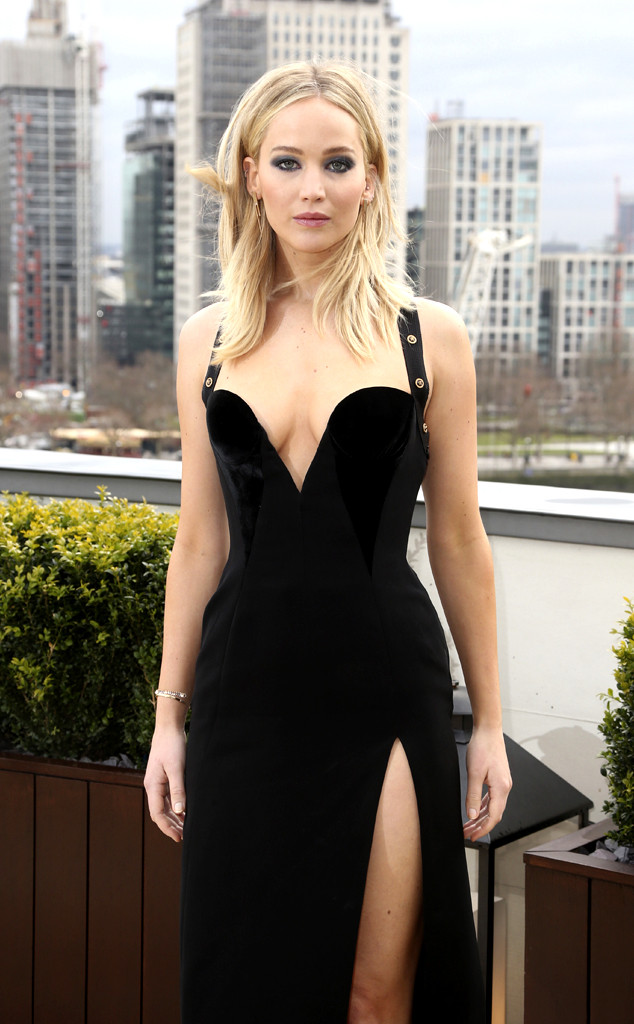 Joel C Ryan/Invision/AP
Today, E! News caught up with Lawrence at the Red Sparrow press junket where she told us how she really felt after learning of the backlash over her gown.
"Surprised? No. Annoyed? Yes," she revealed. "I think it was really irresponsible on behalf of the people whether it was a blog or whoever put it out there because there are very real issues just need to be discussed. That kind of irresponsible journalism and irresponsible chatter takes away from really important issues. I've shot in below freezing weather with walking pneumonia. I can stand in a Versace dress for 90 seconds? I'm an adult. It was silly and it was a misuse of a platform."
And in regards to her famous pal's wedding to chef Chris Fischer earlier this month, the 27-year-old actress shared some exclusive details about the exciting day.
"The best moment? I think their vows," she told E! News. "John Early ordained them in his character that's a blonde southern woman, so we were laughing throughout and crying because their vows were so beautiful. It was very Amy, very funny at the same time. Quintessential Amy. It was just beautiful and gorgeous."
As E! previously reported, the couple wed at a private ocean-front home in Malibu in front of celebrity guests including Jake Gyllenhaal, Jennifer Aniston, Larry David, and Judd Apatow. At the ceremony, bridesmaids, including Lawrence, wore pink sleeveless gowns and white and pink rose crowns.
Lawrence's film, Red Sparrow, hits theaters March 2.